Federal Update
April 21, 2023
This past Tuesday, April 18, IU President Pamela Whitten, along with IU Vice President for University Relations Michael Huber and Doug Wasitis, IU associate vice president for federal relations, took part in a series of meetings on Capitol Hill with members of Indiana's congressional delegation.  
Whitten's day-long trip to Washington, D.C., provided her with an opportunity to talk with Hoosier lawmakers about IU's newly unveiled IU 2030 strategic plan, endorsed earlier this month by IU trustees, which will serve as a roadmap for IU to advance student success and opportunity, expand the university's research and creative activity, and strengthen IU's commitment to serving the economic needs of communities in Indiana and beyond. Throughout the day, Whitten also underscored IU's efforts to advance the goals of the nation's defense industry through its continued educational and research partnerships with Naval Support Activity Crane; leadership in AI-based, high-performance computing and data science initiatives; focus on bringing high-tech companies and jobs to Indiana; and new degree programs in microelectronics and nanotechnology, which will help support the expected workforce demands at the semiconductor campus at WestGate@Crane Technology Park, while also advancing Indiana's aspirations to serve as a tech hub destination.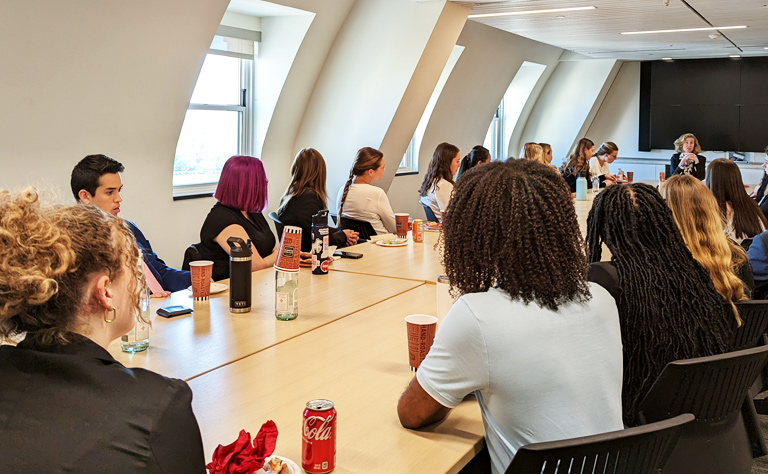 In a meeting with U.S. Sen. Todd Young, President Whitten offered updates on IU 2030, as well as IU's efforts to align its expertise, resources and key partnerships with the goals of the CHIPS and Science Act, which Young has championed since its inception and which IU was one of the first universities to support. The $280 billion bipartisan bill prioritizes investments in emerging technologies and innovations critical to America's economic competitiveness, scientific and technology leadership, and national security. Whitten thanked Sen. Young for his work that led to the passing of the CHIPS legislation and pledged that IU will continue to aggressively pursue opportunities that emerge from the act in partnership with state government and industry leaders.  
Whitten also updated Young on IU's membership in a new coalition of colleges and universities committed to expanding and diversifying the nation's semiconductor workforce. The coalition will begin as six universities in the Association of American Universities that have both women presidents and deans of engineering, as well as the female chair of the board of the American Association for the Advancement of Science. Currently, women represent between 10% and 25% of the semiconductor industry, and historically underrepresented groups make up only 20%. Yesterday, April 20, the all-women group of presidents and deans issued an open letter supporting the CHIPS Act.  
Young will deliver a keynote address on May 3 at a day-long conference in Washington, presented by IU's Public Policy Institute in partnership with the Center for Strategic and International Studies, to analyze the regional impact of CHIPS and Science Act. (See more on this event here.) 
Before departing for home, President Whitten, Vice President Huber and Associate Vice President Wasitis capped a busy day in Washington by enjoying a pizza dinner with IU interns working on Capitol Hill and experiencing the legislative branch of government.