IU, NSWC Crane partner on research initiative to help secure Navy's AI, machine learning systems
Indiana University and Naval Surface Warfare Center, Crane Division, recently collaborated on research into innovative techniques designed to protect artificial intelligence and machine learning systems used by the U.S. Navy from adversarial threats. 
More than 20 IU undergraduate and graduate students participated in the research partnership, which was established between IU and NSWC Crane in late 2019 and enabled through the Naval Engineering Education Consortium. The NEEC is a part of the Naval Sea Systems Command, which supports project-based collaborations with colleges and universities.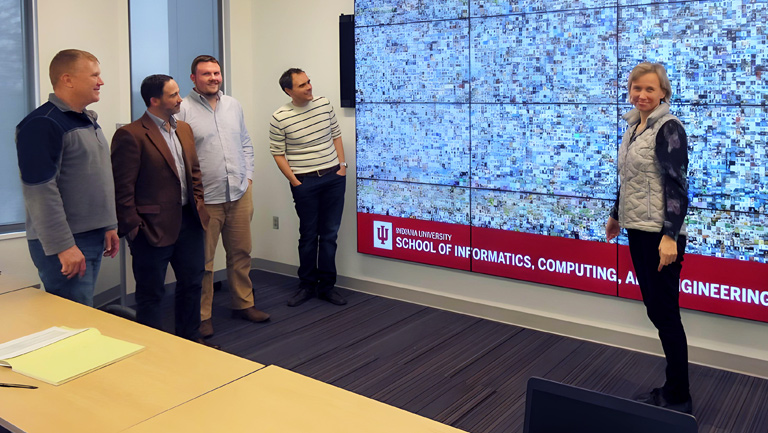 NSWC Crane supports electronic, engineering and ordnance needs of the U.S. Navy and other military customers. It is one of Indiana's largest high-tech employers with over 3,800 employees, of which 2,500 are scientists, engineers and technicians. NSWC Crane is the principal tenant command at Naval Support Activity Crane, the third-largest naval installation in the world, which is located approximately 40 minutes southwest of IU's Bloomington campus. 
David Crandall, Luddy Professor of Computer Science and director of the Luddy Center for Artificial Intelligence at the IU Luddy School of Informatics, Computing and Engineering, said the project greatly benefited the participating IU students, who were able to test their knowledge and apply their research training in a rapidly growing field with major implications for national security. 
"NEEC has been a wonderful opportunity for my students to both work on cutting-edge research, and to receive training that they wouldn't normally get in the classroom," said Crandall. "It was also an opportunity for us to push interdisciplinary boundaries between fields, because this was a collaboration between Professor Katy Börner's expertise in visualization and my lab's expertise in computer vision and machine learning. Together, our groups investigated new techniques for visualizing, debugging and improving the machine learning algorithms that are at the heart of modern artificial intelligence."