Indiana University Students Return to Campus for Spring Semester
This week marks a sort of victory for Indiana University: After successfully completing an in-person fall semester while avoiding the return to online-only classes like many other universities, we are welcoming our students back to all seven campuses for the beginning of our in-person spring semester.  We were able to accomplish this primarily because of our unyielding effort to establish an effective and efficient COVID-19 prevention and response infrastructure, one that continues to evolve and improve throughout the school year.

It was almost a year ago that COVID-19's spread across the U.S. forced us to send our students home to complete the '20 spring semester virtually. After the abrupt halt in campus life, the university committed to find a way to safely resume classes in the fall. With a goal of providing a mix of virtual and in-person instruction—both to satisfy our students' desires for normalcy and to provide a more engaging educational experience in the midst of a pandemic—we prepared our system to diagnose COVID-19 cases and care for those who tested positive.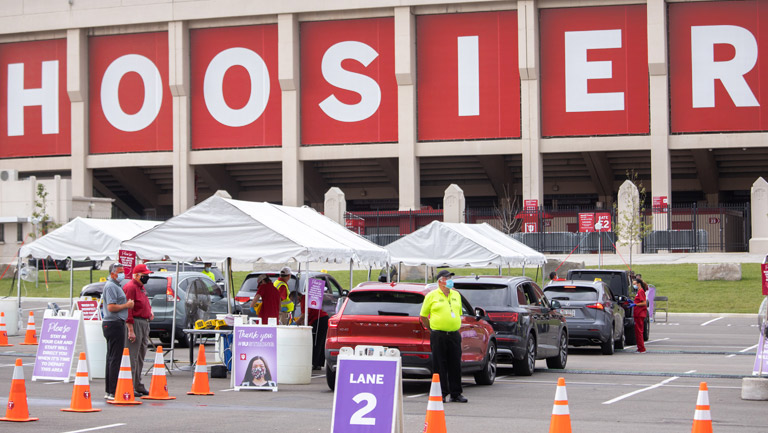 With the largest medical school in the country and the state's only two accredited schools of public health, we had a breadth of expertise to tap into. We immediately developed a system where any of our approximately 120,000 students, faculty, and staff could get a virtual visit with a health-care professional if they felt ill, and they could receive a COVID-19 test if necessary. But that was just the beginning.
 
We also needed procedures and infrastructure in place to handle those who tested positive, or those who had been exposed. First and foremost, this meant establishing dedicated quarantine and isolation housing. Second, this meant creating a robust contact tracing program, something that required significant resources and expertise. Fortunately, IU's involvement in founding and running AMPATH—a partnership with medical educators and government officials in Kenya to help combat the spread of communicable diseases such as HIV—meant that many of our faculty and staff had gained expertise in health-care initiatives requiring substantial community outreach. With their help, we hired and trained a corps of contact tracers.

Then there was the matter of testing potentially thousands of people per day. In the early days of the pandemic, researchers at Rutgers, a Big Ten peer with whom we have a close relationship, developed a saliva-based PCR test that didn't rely on medical professionals to collect nasopharyngeal swabs. This was a huge breakthrough, and IU readily made use of their technology, though it required us to send our collected samples to Rutgers for processing. But collecting a huge quantity of samples was in and of itself an additional logistical challenge. This challenge was solved when we realized that our events staff—which has experience moving massive numbers of people and equipment for football and basketball games, concerts, and commencements—could run our testing operation, and they had the manpower available to take on this task as there are no major public events occurring on our campuses right now.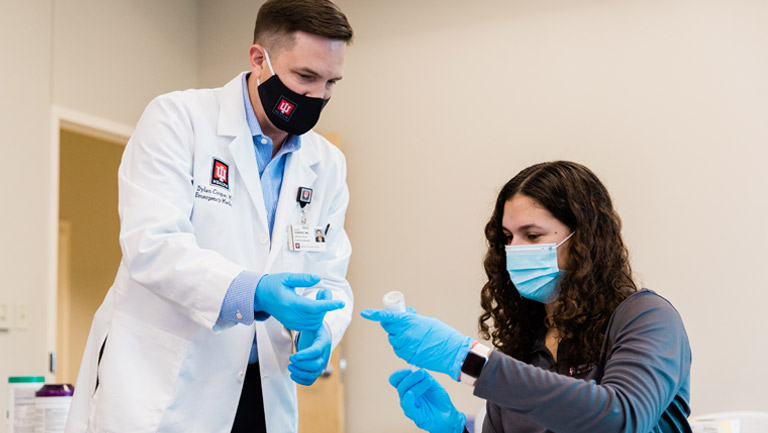 While this testing strategy helped us get through the early days of the spring semester, we knew that we could be more efficient and effective if we were able to process the tests on our own. This meant establishing our own processing labs, and after purchasing the proper testing equipment and training our staff, we opened these labs in October. Throughout the rest of the fall semester and over the winter intersession they have slowly built up their capacity to process these tests. As students return to campus this week, they can now process about 50,000 tests per week. This means we are efficient enough to return test results on the same day a sample is taken. If an individual tests positive on campus, our contact-tracing team gets in touch immediately and the student is moved to housing reserved for isolation. Close contacts are also identified and instructed to quarantine following CDC guidelines.

This is essentially the strategy that helped us slow early-semester spread before it became an outbreak last fall, and from our students' perspective on-campus life may look very similar to the fall. But our ability to conduct every part of this strategy in-house means that we should be even more effective this spring in keeping the virus at bay. Additionally, we now have enough data from the fall to conclusively say that other health and safety measures in place meant we had no community spread in classroom settings; the primary vector of transmission was in residential settings or in off-campus venues.

All told, the testing and safety measures that we adopted will cost about $700 a student. This was a huge investment for a state university, but it also shows that establishing reasonable protections for the people who depend on IU is possible on a realistic budget. Through a combination of measures, Indiana University kept the prevalence of infection quite low throughout the fall semester, even as case counts rose dramatically in the state.

Now that vaccines are available, we're working with the state and local governments to help distribute them as quickly and efficiently as possible—not just to our students, faculty, and staff, but also to the communities in which we live. More than 600 students in our health-sciences schools have trained to give vaccinations and have been put to work all over the state distributing shots to those who are eligible.

This has not been an easy undertaking—it's been burdensome to some degree for everyone involved—but the measures we have put in place are the reason why we can still function with a semblance of normalcy. While students, staff, and faculty alike may be feeling the fatigue of constant mitigation testing, mask wearing, and social distancing, the results speak for themselves: It is our entire community's dedication to proper precautions, and our partnership with various state and local entities, that's making it work.