IU President Whitten moderates in-depth conversation with Gov. Holcomb
Yesterday, Feb 16, in Bloomington, before several hundred local business, community and government leaders, Indiana University President Pamela Whitten sat down for a one-on-one conversation with Indiana Gov. Eric Holcomb to discuss the governor's legislative priorities and the state's major initiatives concerning education, the economy, and public health and wellness at the Greater Bloomington Chamber of Commerce's 2023 Governor's Luncheon.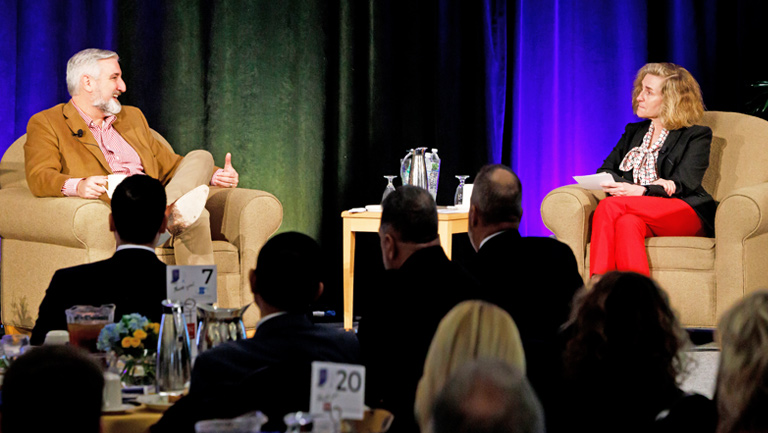 During the event, which IU and Cook Medical co-hosted, Gov. Holcomb underscored his support for IU's efforts to educate the next generation of Indiana workers and keep graduates in careers in the Hoosier state. He also provided an update on the Regional Economic Acceleration and Development Initiative, Indiana's major economic development initiative designed to promote strategic investments that strengthen the state's ability to attract and retain top talent and business. As Whitten proudly noted, each of IU's campuses has enthusiastically participated in the READI program, partnering with their local communities on a broad array of projects.  
Whitten asked the governor about strategic planning efforts and investments that have contributed to Indiana recently being named as the state with America's best infrastructure in CNBC's annual America's Top States for Business rankings and being ranked among the top five for six consecutive years.  
"We don't ever want the slogan 'crossroads of America' to just be a slogan. We actually want it to come to life so to speak," Holcomb said. "Obviously it's so foundational to our economic climate. It is our physical foundation."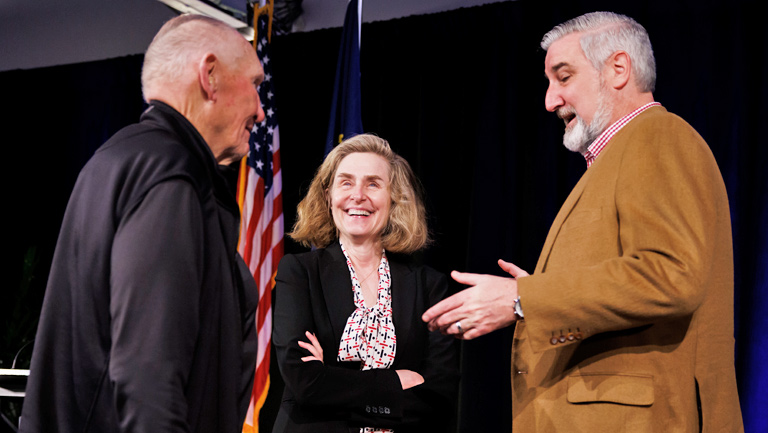 In her introductory remarks, Whitten outlined the foundation of the IU 2030 strategic plan, which is designed to lead IU boldly into its third century. The framework emphasizes three critical, interconnected areas of concentration: student success and opportunity; transformative research and creativity; and service to the state, nation, and beyond. 
"Indiana University is committed to being a leading partner and collaborator to drive innovation, to attract investment and chart a prosperous future for Hoosiers everywhere," she said.  
Read more about the vision of IU 2030 
Read more about IU's participation in READI