Strengthening civics education in Indiana and beyond
This week (March 6-10) marked the nation's first-ever Civic Learning Week, which brought together students, educators, researchers, policymakers and other community members across the U.S. to reflect on ways to strengthen civics education. 
As distinguished former Indiana congressman Lee Hamilton opined this week, being a good citizen remains central to the functioning of the nation's representative democracy. "American democracy was built on the assumption of an engaged and well-informed electorate," he wrote in his latest "Comments on Congress" column. "It's gotten a lot more complicated over the centuries, but if one core truth has remained constant, it's this: If responsible citizens do not participate in the system, then the system will not work. It's as simple as that."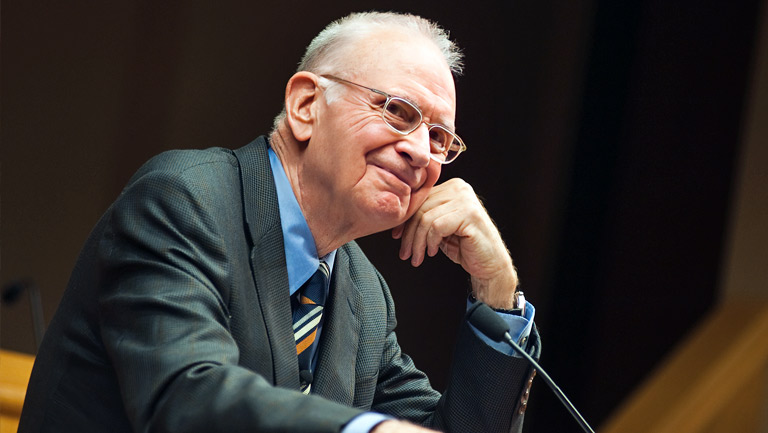 To achieve this mission, the center, which is part of IU's Office of the Vice President for University Relations, has developed an extensive array of free civics education resources, training sessions and activities that are used in classroom and other teaching and learning settings here in Indiana and all across the country. 
Recently, the center has partnered with Indiana University-Purdue University Columbus to bring to Columbus, Ind., the nationally recognized program iEngage, a free, weeklong camp for students in grades 4-8 that is designed to provide area youth with an opportunity to learn how to make a difference in their schools, neighborhoods and communities.  
"Arguably, civics education has never been as important as it is today," said Valerie Pena, associate vice president for the Office of the Vice President for University Relations and executive director of the Center of Representative Government. "And central to IU's engagement in the life of our state is a responsibility to help educate our young people about the basics of our system of representative democracy and to empower them with the knowledge, skills and frame of mind to make real positive change in their communities."