Indiana University Will Return to Campus August 24 Following Restart Recommendations
On Thursday, May 22, Indiana University released its guide for reopening its seven campuses statewide. Using the principles of Indiana's Back On Track plan, we are looking at a phased reopening through the summer that culminates in students returning to campus on time for the fall semester by using a hybrid model of in-person and online learning. Throughout this framework, we have kept the health and safety of our students, faculty, staff, and community members as our top priority while striving to meet the core tenets of our mission.

Considering the varied needs of our extensive and diverse community, the restart report seeks to provide fundamental guidance regarding topics such as health screenings, physical distancing, use of PPE, and public hygiene, but gives each campus and various programs the latitude to develop the most effective procedures for their needs.

Below are highlights of the recommendations that will guide our operations over the next several months.
General Safety Procedures:
At the core of our plan are two tenets: 1) Any plan to reopen must center around how we operate our facilities and physical spaces. 2) A successful reopening is sustainable only to the extent that individual members of the IU community take personal responsibility to respect social distancing, to use provided PPE, and to commit to a collective effort that will ensure the widespread safety of our campuses; we have every confidence they will do so.
To that end, then:
Every night our public spaces will be shut down for a thorough cleaning. During the day, strike teams will be assigned to areas that have developed a need for re-cleaning.
Cleaning supplies will be made available in public areas and shared office environments so that anyone can disinfect an area they've just used or plan to use.
In areas where face-to-face interaction is unavoidable, plexiglass or acrylic barriers will be installed.
There will be wide spread messaging, including signage and emails, that encourage social distancing and taking ownership of your personal domain.
IU community members will be required to self-screen with regular access to thermometers.
Masks will be required in several different settings, which we will help provide to students, faculty, and staff.
Testing for those exposed to the virus or displaying symptoms will also be available through IU Health.
Students:
Students are the heart of our institution and we are eager to welcome them back to campus when it is safe and appropriate to do so. The restart recommendations are the first step in the plan to bring them back to our campuses this fall. When they arrive, they will be given two masks and instructions on best hygiene practices for COVID-19. Details about return to campus can be found here.
Academic Year:
The 2020-21 academic year will run from Aug. 24 to May 9 as originally planned but will now be in three parts:
Fall Semester will run from Aug. 24 through Dec. 20. Classes may be in-person or online until Thanksgiving week (Nov. 20), when all in-person instruction will end. The rest of the semester will be online only. There will be no Fall break.
Campuses will have the flexibility to use the online-only period (Nov. 30 to Feb. 8 – a new Winter Session) in various ways: to finish fall semester courses, to begin spring semester courses, or to create new intensive courses that use either or both the December and January online periods.
Spring Semester will begin with online only instruction on Jan. 19 and then resume in-person instruction on Feb. 8. The semester will run to May 9 without a Spring break.
Residence Halls:
All rooms in IU's residence halls will be single occupancy, but with a rigorous exemption process available for students who may wish to choose their own roommate. In residence halls where bathrooms are shared among multiple rooms, students will be assigned a bathroom and a time slot for showering and grooming. For those living in off-campus or Greek housing, guidance will be provided regarding hygiene and social distancing.
Classes and Classrooms:
Classrooms will be set up consistent with social distancing guidelines. This means, for example, a room that can hold 40-60 people might now hold only 16-18 people. With the capacity of physical classrooms decreasing, many classes will adjust and may include a rotational schedule of in-person and distance learning, while some large lectures may be completely online. We expect to have more announcements on the academic side--including a fall calendar--very soon. 
Athletics
Student Athletes:
Student athletes will return to training by mid-June, and will likely require routine symptom screenings on a daily basis. The ability of teams to meet, workout, and practice will be done under guidance consistent with the restart plan, and with recommendations from governing bodies such as the NCAA and Big Ten.
Athletic Events:
Decisions regarding athletic activities will be made on a case-by-case basis. Indiana University is working with our athletics governing bodies to develop safe and workable plans for the future. Further guidance is forthcoming so that fans understand what it means for their ability to watch games in-person.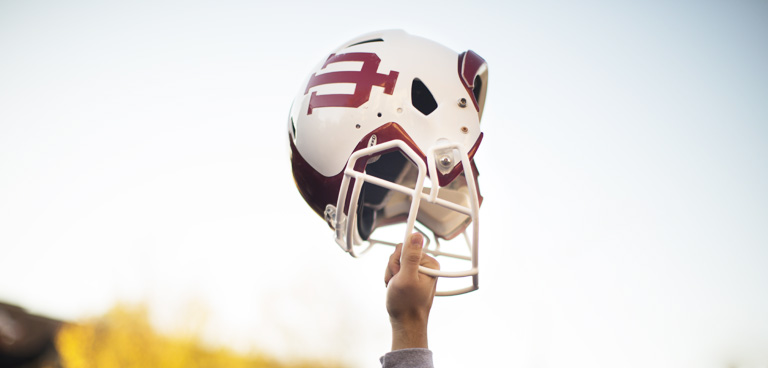 Researchers:
Researchers, including graduate students, who are performing essential research that cannot be conducted at home may return to their labs on June 1, but will be required to fill out a request form and to abide by all social distancing and cleaning requirements set forth.Those who can conduct research remotely are encouraged to continue doing so. More information can be found in the research-specific restart plan.
Faculty and Staff:
Faculty and staff are encouraged to continue to work from home as much as possible. All employees of Indiana University will be given two masks and have access to clean supplies for their office space. Faculty members will have increased space at the front of class rooms so that they can maintain an appropriate distance from their students. Travel will continue to be restricted.
The Indiana University Restart Committee Recommendations are a framework that will guide us as we begin to reopen our communities. But it's important to realize this is just a beginning. Using these principles, our campuses will continue to make localized decisions as they consult with their county health officials, monitor case data and hospitalization rates in their regions, and receive further guidance from the state. As more decisions are made, we will be sure to highlight them in future newsletters.