The 2020-2021 School Year Begins
Armed with a robust public health plan, Indiana University is working at every level to provide a safe environment for our students to live and learn. The key to this plan is constant testing, aggressive tracing, and quickly isolating those who are carriers of the virus. Because we know that most college-aged students will be asymptomatic if they contract the coronavirus, we must stay vigilant so that we can continue to allow our students on-campus.
For many students, this constant testing began even before they stepped foot into their dorm room or Greek housing. All students in congregant living were required to do pre-arrival testing on their own through the many testing sites now operational across the state and country. A handful of students tested positive; this may have delayed their arrival to school by a week or so, but in those instances it helped us stop the virus from ever crossing the campus border.
For those who tested negative, move-in days were pre-scheduled and extended to allow social distancing. Upon arrival, students who live on campus received a rapid response coronavirus test. We were able to process thousands of tests in about 15 minutes each, helping ensure that those who got room keys and were able to go into the dorm weren't bringing the coronavirus with them. Similarly, off-campus students checked-in upon moving into their house or apartment, and were given a test that was mailed in to Vault, a startup from our Big Ten colleague Rutgers, and their results came within a few days--and well before classes started.
While this has all been a tremendous success so far, we know the real challenge begins now. That's why IU will conduct ongoing random surveillance testing across all campuses. Through our own labs and with our own supplies, we will soon be able to process around 10,000 tests per day. These tests will allow us to monitor the virus across campus, identify hotspots, and keep our campuses--and the communities in which they are located--safe.
In the event a student tests positive, they will have the choice of returning home for quarantine or quarantining in on-campus housing set aside for infected students. While quarantined, students will have access to food delivery, laundry services, and mental health professionals through the use of an app developed by IU Health. We will also harness our multiple communications platforms to conduct contact tracing follow up with close contacts, ensuring that we can quickly test those contacts before they are able to spread the virus further.
While this is the centerpiece of our strategy to keep our students safe, it is not the only step we are taking that will make campus look a little different this fall:
All students are being given two reusable face masks, and will be required to wear them in public spaces.

 

Common areas and passageways will be clearly marked

 

with signage to designate the flow of movement and proper physical distancing. 
Cleaning and sanitizing supplies will be available for shared spaces, while custodial crews will be working in round the clock shifts to ensure classrooms get constantly sanitized. 
Dining will also look different: to reduce density in our dining halls, delivery service and grab-and-go options will become standard, and we are working to establish some outdoor dining common areas.
Finally, classes themselves will operate a little differently. Classes will be offered in three formats: Fully in-person, fully online, and a hybrid of in-person and online. Mandated physical distancing requirements have reduced our classroom capacity by over 60%, not allowing us to have our normal, extensive in-person class schedule. However, the university has worked hard to include an in-person component to 40% of all class sections offered, and only 25% of our students will have online only schedules this fall.
IU is uniquely positioned to provide excellent online education for our students. We have a long history in the online learning space: Our first online class was offered in 1989, and prior to the onset of COVID, we already offered 1,900+ undergraduate online class sections. Several of our online programs are top ranked nationally. And beginning this fall, undergraduate students at any Indiana University can take an online course from any participating Big Ten Academic Alliance university each semester, with all tuition and fees waived for that course.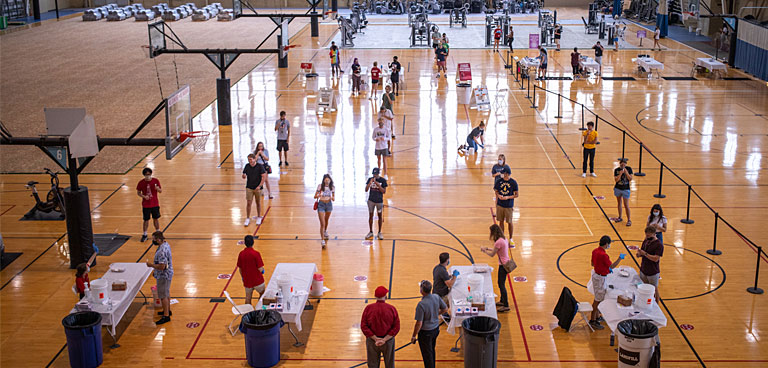 We have done everything in our power to preserve campus life and avoid a fully virtual semester. Daily life on campus will surely look different, but we have worked countless hours to preserve our campus communities while keeping our students, faculty, and staff safe and healthy. It is, however, incumbent on our students to respect the safeguards and physical distancing measures put into place in order to complete our semester in person. The power to finish out the fall on our campuses lies with our students. If they take ownership of their health, participate in social distancing and PPE use, and avoid parties we have the best chance at a successful semester.