Indiana University has $9.9 Billion Impact On Indiana's Economy
Long before COVID-19 called Indiana University into action we've known the university has a tremendous impact on our state's economy, quality of life, and ultimate success. In an op-ed in today's Indianapolis Business Journal, President Michael McRobbie lays out some of the ways IU's impact is currently being seen, and how it can be maximized in the future in partnership with the state.
A new study conducted by Emsi, a labor market research firm that is part of the Strada Education Network, shows just how profoundly IU contributes to the state of Indiana. In fiscal year 2019, IU added a net $9.9 billion in income to the Indiana economy, around 2.7% of the state's total gross state product. In terms of the labor market, it means IU supports 151,015 Hoosier jobs--one out of every 26 jobs in the state.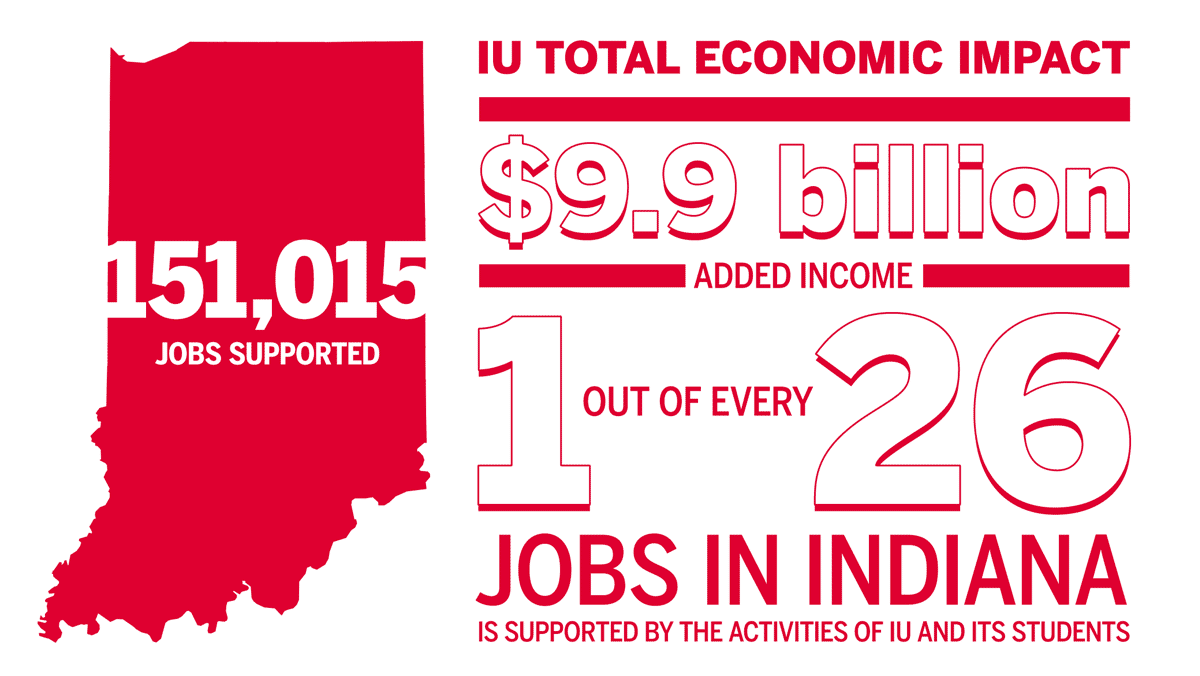 Of that nearly $10 billion in income, $464.7 million is a direct result of IU's research spending. That spending not only generates an economic impact, it also contributes to groundbreaking research through our Simon Cancer Research Center and the IU School of Medicine that contributes to the public health of our state.
Big numbers are one thing, but return on investment is another. The economic impact study confirms what we already know, and why we believe a four year degree is so critical to Hoosiers' success; IU is a good investment for students and taxpayers alike.
Taxpayers, through the Indiana General Assembly, provided IU with $623.3 million of funding in FY 2019. In return, they will benefit from added tax revenue amounting to $1.3 billion, and a reduced need for government-funded services that totals $257.6 million in savings. That means for $1.00 of public money invested in IU, taxpayers will receive $2.40 in return. 
For students, attending college is even more of an investment--tuition, supplies, interest on student loans, forgoing the income made from a job they could have instead of school, all are real costs. But the benefit of this investment is undeniable. Students with four-year IU degrees will receive $7.7 billion in increased earnings over their working lives. That is a return of $3.50 in higher future earnings for every dollar students invest in their education. Students' average annual rate of return is 14.4% To put that in perspective, the average yearly rate of return on a money market fund, one of the safest investments a prudent investor can make, is 1.3%.
The economic impact study is not only an important demonstration of IU's impact, but it is also a roadmap to state success. Indiana University has proven that, through state partnerships and a commitment to our community, we are an invaluable asset to Hoosier students and taxpayers alike. More detailed information about Indiana's economic impact, and the study itself, can be found on our website.