At the conclusion of the 2022 session of the Indiana General Assembly, John Summerlot, former university military and veteran services coordinator at Indiana University, reached out to IU's State Relations team to share an idea after speaking with colleagues in neighboring Ohio. That year, the state of Ohio chose to expand its Purple Star Schools program for K-12 schools to higher education institutions. The program recognizes schools that show a major commitment to students and families connected to our nation's military.
Knowing that Indiana also had a K-12 Purple Star School program operated by the Indiana Department of Education, Summerlot made the case for why expanding the Purple Star program to Indiana colleges and universities would strengthen campus-led efforts to serve and support active-duty service members, veterans and military-connected students (such as spouses and dependents). IU State Relations forwarded the concept to the staff at the Indiana Commission for Higher Education. The ICHE and the Indiana Department of Veterans' Affairs liked the concept so much they proposed legislation—via an agency bill—to create an Indiana higher education version of the program during the 2023 legislative session.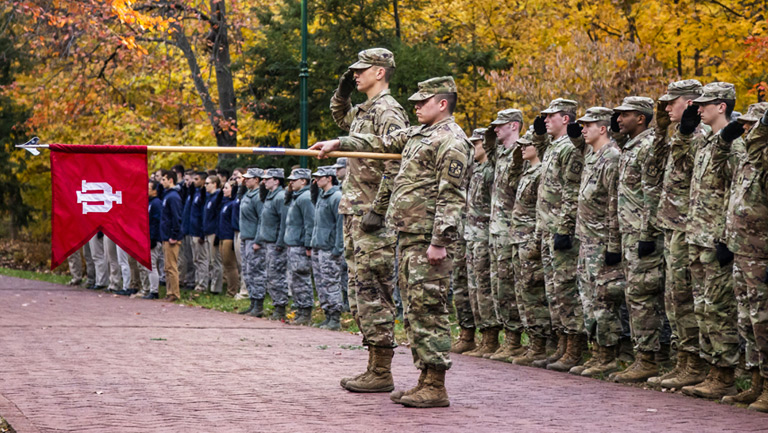 Senate Enrolled Act (SEA) 384-2023, authored by Sen. Jack Sandlin, R-Indianapolis, requires the ICHE and IDVA to develop and implement the higher education purple star designation to (1) recognize postsecondary educational institutions that are supportive and inclusive of veterans and military-connected families; and (2) provide veterans and military-connected families with enhanced support for pursuing and finishing a degree or postsecondary credential. During testimony presented before the Senate Committee on Veterans Affairs and the Military and House Committee on Veterans Affairs and Public Safety, IU testified on behalf of itself and six other educational institutions, affirming support for the bill and collective efforts to help military and veteran students pursue higher education knowing that their school of choice will provide them with the support and resources they need to be successful during their time on campus. 
IU's connections to the United States military date back to the school's founding in 1820. Many of IU's first students, faculty members and trustees had military ties, including some who served in the War of 1812. IU's proud tradition of military involvement has remained strong over the past 200 years, and, today, all seven IU campuses have a veterans' support office. Last fall, 2,868 military-connected students were enrolled university-wide, making up slightly over 3% of the entire IU student population.
Savanna Hebert-Annis, university military and veteran services coordinator, is currently serving on ICHE's Veterans' Education Pathways Taskforce. While the goal of the taskforce is to increase by 5,000 the number of veterans and military-affiliated individuals pursuing an undergraduate credential at an Indiana postsecondary institution by the 2025-26 academic year, their work will inform the Indiana Higher Education Purple Star Designation program requirements and application.
"The work of ICHE Veterans' Education Pathways Taskforce is fundamental to recommending the criteria and requirements for Indiana's Higher Education Purple Star Designation Program," Hebert-Annis said. "The taskforce is comprised of various stakeholders across Indiana, each bringing forth a unique personal and professional lens in how we, as an education institution and as a collective community and state, can better serve our veteran and military-affiliated individuals as they pursue their postsecondary education.
"Currently, the taskforce is focused on three essential areas: student supports, transferability of military credits and communication/navigation toolkit. With Indiana's Higher Education Purple Star Designation Program, this will set forth specific and rigorous criteria, which clearly establishes not only our commitment to our veteran and military-affiliated individuals, but taking additional steps in ensuring transparency and accountability in an active role by demonstrating how we support with excellence. As the criteria for the Indiana's Higher Education Purple Star Designation Program is finalized, I am certainly eager and excited to take the next steps in working with each of our IU campuses to earn the Purple Star Higher Education Designation."
SEA 384-2023 passed both chambers with unanimous bipartisan support (the House voted 96-0, and the Senate 48-0). Indiana Gov. Eric Holcomb signed the bill into law yesterday, April 20, and it is effective immediately. By May 1, 2024, ICHE and IDVA must jointly: (1) determine the criteria for awarding the designation to a state educational institution, an approved postsecondary educational institution or other postsecondary educational institution; (2) determine the length of time that a designation awarded under this chapter is valid; and (3) prescribe the form and way in which a postsecondary educational institution may apply to be awarded the designation.