21st Century Scholars auto-enrollment receives bipartisan support in the House
When the Indiana Commission for Higher Education released its annual College Readiness Report in June 2022, the statistics were alarming: only 53 percent of Indiana high school graduates in May 2020 enrolled in postsecondary education after high school. This was asix percentage point decline from the prior year anda total decline of 12 percentage points over the last five years. Despite the steep drop in the college-going rate, Indiana 21st Century Scholars bucked the larger trend.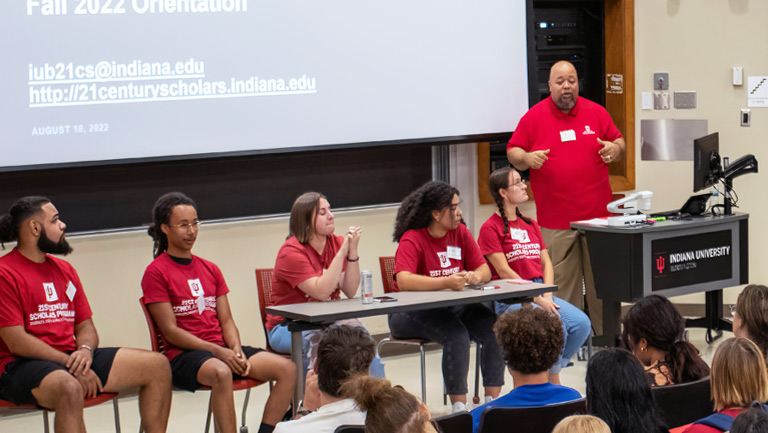 The 21st Century Scholars program is Indiana's early college promise program, founded in 1990, which allows income-eligible students to enroll in seventh or eighth grade and earn up to four years of college tuition in Indiana for free. Eighty-one percent of scholars go to college, compared to the statewide average of 53 percent. 
As part of the multifaceted strategy for reversing the downward trend of Indiana's college-going rate, the Commission has called for automatically enrolling all eligible students in 21st Century Scholars. Statewide advocacy groups, including the Indiana Chamber of Commerce, Indiana Latino Institute and Ascend Indiana began endorsing this policy change, and state policy makers took note. Indiana Gov. Eric Holcomb included auto-enrollment in his 2023 Next Level Agenda for the legislative session and called on lawmakers during his 2023 State of the State Address to, "easily ensure thousands more students have their college opportunity paid by automatically enrolling all financially eligible students in the immensely successful 21st Century Scholarship Program, once and for all!" 
House Bill 1449, authored by Rep. Earl Harris Jr., D-East Chicago, would do just that, allowing the Commission to automatically enroll all eligible students into the program and instead provide an opt-out provision for families who do not want to participate. During testimony given to the House Education committee, Indiana University testified on behalf of itself, and the other six state educational institutions, affirming support for the bill and our collective efforts on helping 21st Century Scholars persist year to year and complete a program of study on-time with a degree or credential.  
From the 21st Century Scholars Covenant (a supplemental financial aid award at IU Bloomington that takes the program even further by covering the cost of books, room and board, and other expenses) to additional academic support, tutoring and mentoring, and professional guidance for 21st Scholars at every one of its campuses, IU collectively stands ready to support and graduate more 21st Scholars with this positive policy change. 
The bill passed the House Education committee with full support 11-0 and received additional bipartisan support from the House Ways and Means committee, passing 24-0. Once on the House floor, the chamber offered the bill high praise and full bipartisan support with a vote of 92-1. The bill has now been referred to the Senate, where it will be eligible for committee consideration starting on March 6 during the second half of session.